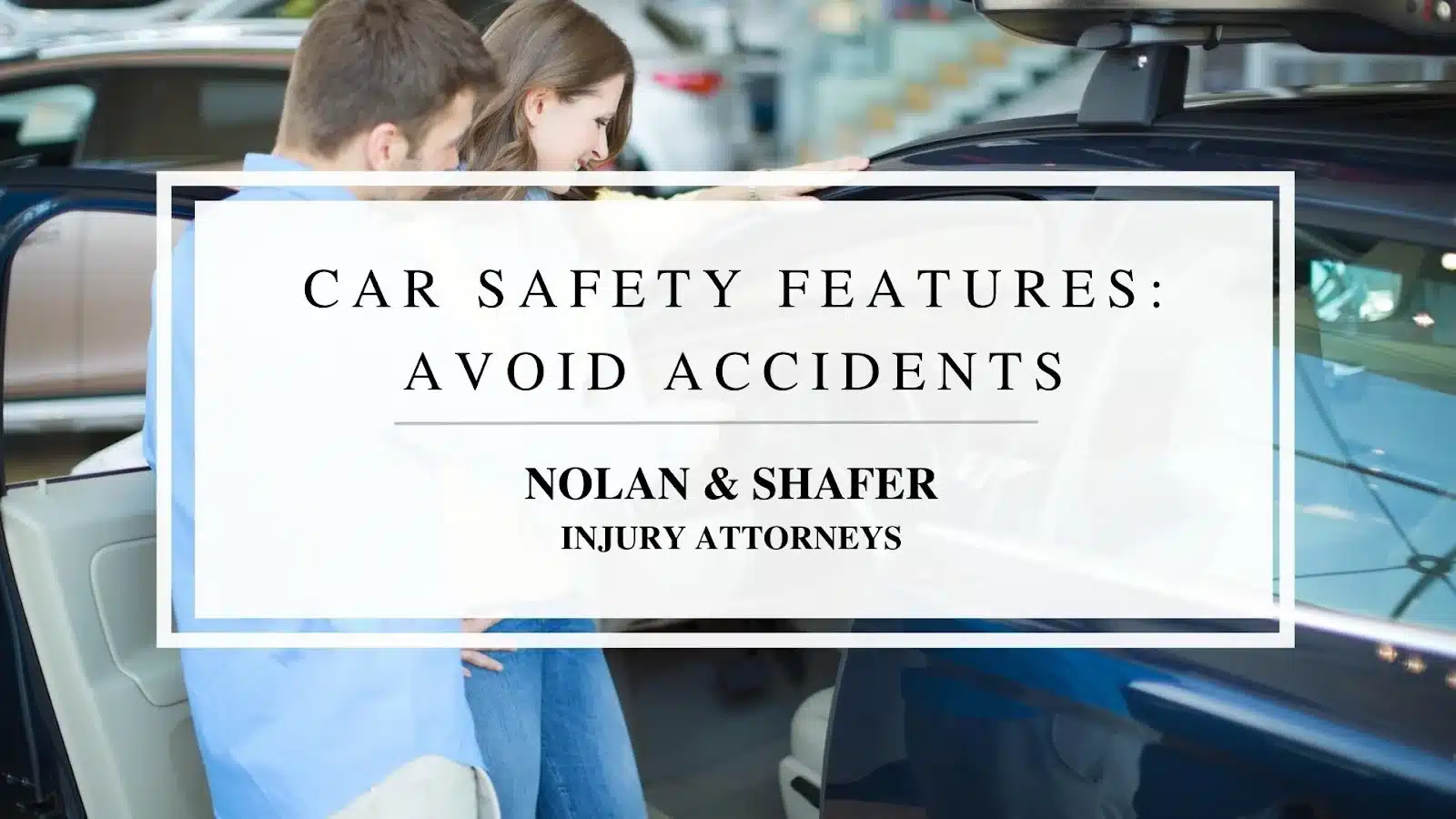 Did you know that simply wearing a seatbelt can increase your chances of surviving a serious car accident by as much as 50 percent? Yes, car safety features save lives! It's important not to overlook them when choosing a vehicle. Not only will it save you in the event of an accident, but certain features may also prevent a car accident entirely. 
According to the Centers for Disease Control and Prevention (CDC), car accidents are the leading cause of death in the first thirty years of an American's life. Your car safety features are the best tool to protect yourself on the road. 
Standard Car Safety Features Required By Law
Here are the standard car safety features mandated by federal law that your vehicle should have:
1. Safety Belts & LATCH Restraint Systems
Under the Michigan Safety Belt Law, drivers and passengers must wear a properly fastened safety belt. For children, here are the following provisions:
Regardless of where a child is seated, children under the age of 4 should be secured in a child safety seat.

A booster seat must be used if a child is between the ages of 4 and 8 and is under 4 feet 9 inches tall.

Children aged 4 to 15, who are at least 4 feet 9 inches tall, must wear seatbelts.
Meanwhile, a Lower Anchors and Tethers for Children (LATCH) restraint system has been mandatory in most US vehicles since 2002. It consists of straps and anchors that will help you properly install the child seat in your car.
2. Front Airbags
Since 1998, federal law has required all new passenger vehicles to have front airbags. Although side airbags are optional, almost all automakers include them as standard safety equipment to comply with the law's side protection standards. 
While airbags can save lives, they can also threaten small children. Keep the following tips in mind:
A child under the age of 13 is required to sit in the backseat, away from the front airbags.

Never position a child in a rear-facing car seat in front of an active airbag.
3. Electronic Stability Control (ESC) & Anti-Lock Brakes (ABS)
Electronic Stability Control (ESC) is a car safety feature that protects you against skidding, loss of steering control, or brake failure. When you lose control, it automatically stabilizes your car to keep you safe.
Meanwhile, anti-lock brakes (ABS) prevent the wheels from locking up during emergencies. The ABS works in tandem with the ESC to assist you in steering your car to safety. Both car safety features have been mandatory in most passenger vehicles sold in the US since 2012.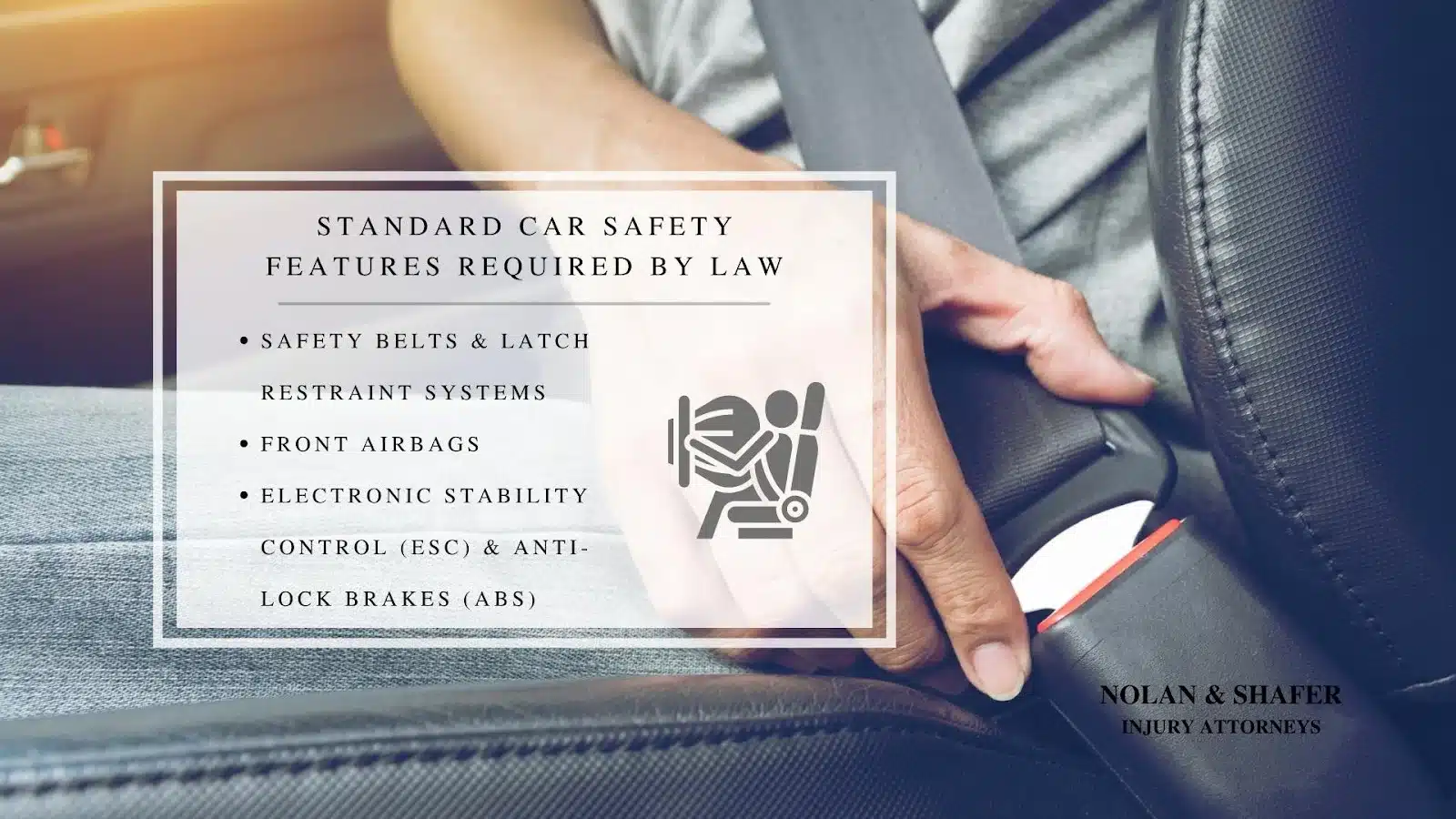 Advanced Car Safety Features
Take the time to look for a model with better technology and car safety features to protect you and your passengers. Here are some of the car safety features you can consider:
1. Driver Assistance Technology
According to the National Highway Traffic Safety Administration (NHTSA), human error was linked to most of the 38,824 car crash fatalities in 2020. Fortunately, several available driver assistance technologies can protect you. They use sensors designed to alert or warn you when you're too close to a vehicle or near a collision. Here are some of them:
Forward Collision Warning

Lane Departure Warning

Rear Cross Traffic Warning

Blind Spot Detection
2. Adaptive Headlights
Adaptive headlights use sensors to automatically adjust the illumination of your headlights, improving visibility depending on the situation and conditions. These high-tech headlights are not fixed and can move in sync with the movement of your steering wheel. In 2022, NHTSA issued its final ruling allowing adaptive headlights in new vehicles in the US. 
Do Safety Features Lower Car Insurance Rates? 
When you've already invested in a safer car, you might ask, "Do safety features lower car insurance?" The answer is that it depends. While most insurance companies offer discounts on vehicles with certain safety features, it doesn't always guarantee lower insurance premiums. 
For instance, more advanced car safety technology raises the cost value of your vehicle, leading to a higher car premium. Many insurance companies also charge extra for cars with advanced driving assistance technologies because they are more expensive to repair in case of an accident. 
Because of the complexities of car safety insurance, it's best to consult with a Michigan car accident attorney to help you prioritize the features that are most important to you. 
Car Accident Legal Assistance
Accidents can occur even with the most advanced car safety features. In such cases, it is best to seek legal counsel as soon as possible. Our expert team of accident lawyers at Nolan & Shafer can assist you immediately. Call us at (231) 722-2444 to schedule an appointment.