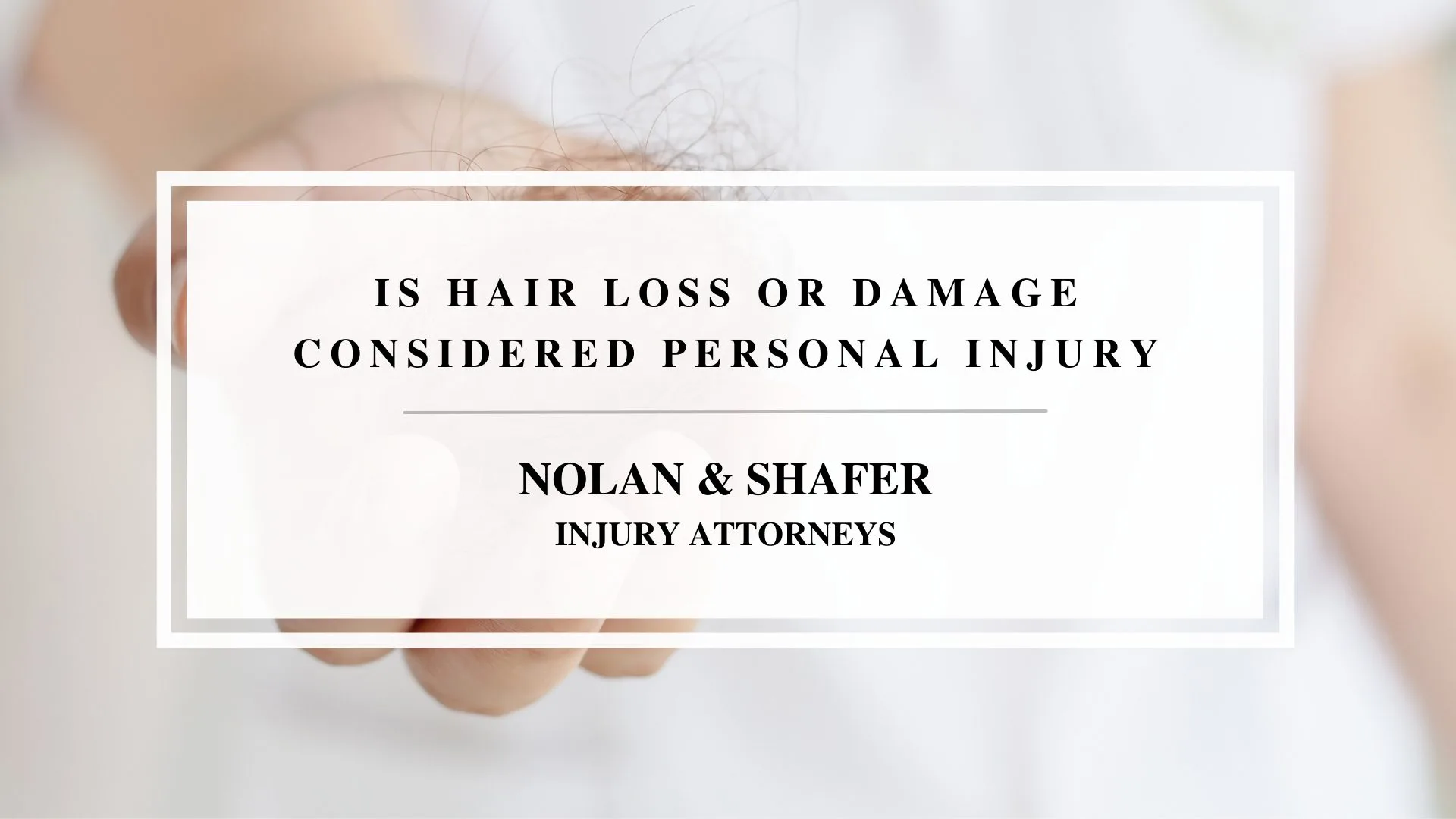 You can file a personal injury lawsuit depending on who or what caused the damage or loss of your hair. If a negligent hair stylist in a salon caused you harm, you can file a civil lawsuit for personal injury and seek damages. If a product led to your injury, you can sue for product liability, which is one of the most complicated areas of personal injury law. 
Hair loss and damage lawsuits can be tricky, involving many factors and elements. Our skilled Grand Haven personal injury attorney will explain some of the specifics in this article. 
Hair Loss and Related Lawsuits
Hair loss and damage are not minor issues, especially when they have serious long-term consequences, such as permanent hair loss, scarring, or chemical burns on the scalp. Thus, if you suffered from any of these, you have the right to seek damages. Here are a few hair-related court cases and their backgrounds: 
1. SCOTT v. JAMES (1999) 
Appellant Doris Scott filed a negligence complaint against appellees Sylvia Summer, a hair stylist, and Edna James, the owner of Edna's Beauty Salon in Washington, DC. Allegedly, Ms. Summer, the hair stylist, negligently applied a hair-relaxing treatment, causing the appellant's hair to fall out. The plaintiff sought $100,000 in pain and suffering compensation and reimbursement for medical and other expenses related to hair restoration treatments.  
The Court of Appeals upheld the trial court's decision in favor of the appellees, citing Ms. Scott's failure to present a standard of care, a critical element in a negligence case. Some of the key legal points include: 
Ms. Scott failed to present a credible expert to testify on the standard care for administering a hair relaxer, arguing that her injury is sufficient proof of negligence under the

res ipsa loquitur

doctrine

. 

Because she failed to establish the standard care of duty, proving a breach was even more impossible.
Thus, the case failed to establish a causal link between the breach in standard care and the injury. 
2. CASTILLO et al. v. UNILEVER UNITED STATES, INC (2022)
Emily Castillo and others filed a class action lawsuit against Unilever, claiming that their TRESemmé brand hair products were unsafe due to the preservative DMDM hydantoin. The plaintiffs claimed the products caused hair loss, scalp irritation, allergies, and cancer. 
A product liability case such as this is lengthy and complex as it involves proving strict liability (that the product contained a flaw that caused the plaintiff's injury) rather than proving negligence.
In a December 28, 2022 order, U.S. District Judge Gary Feinerman ordered the case dismissed with prejudice. Some of the elements that the plaintiffs failed to argue adequately were:
Failure to demonstrate that the product caused them physical harm or damage. Other buyers may have experienced it, but not the plaintiffs. As a result, the proximate cause or link between the product and the alleged injury was not established. 

Breach of implied warranty and how it contributed to the injury was not established. The plaintiff failed to demonstrate that the products' promise to "smooth, nourish, cleanse, and repair" the hair was false and caused the injury.

The products were not "deceptively labeled." There was no misrepresentation because their label did not imply that they were DMDM hydantoin-free and also listed it in the ingredients in the back, with no intent to conceal. 
What Should You Do If Your Hair Salon Messed Up
If your hair salon made a mistake and you ended up with damaged hair or other serious injuries such as burns or infections, you can seek compensation for your damages. Here's what you can do: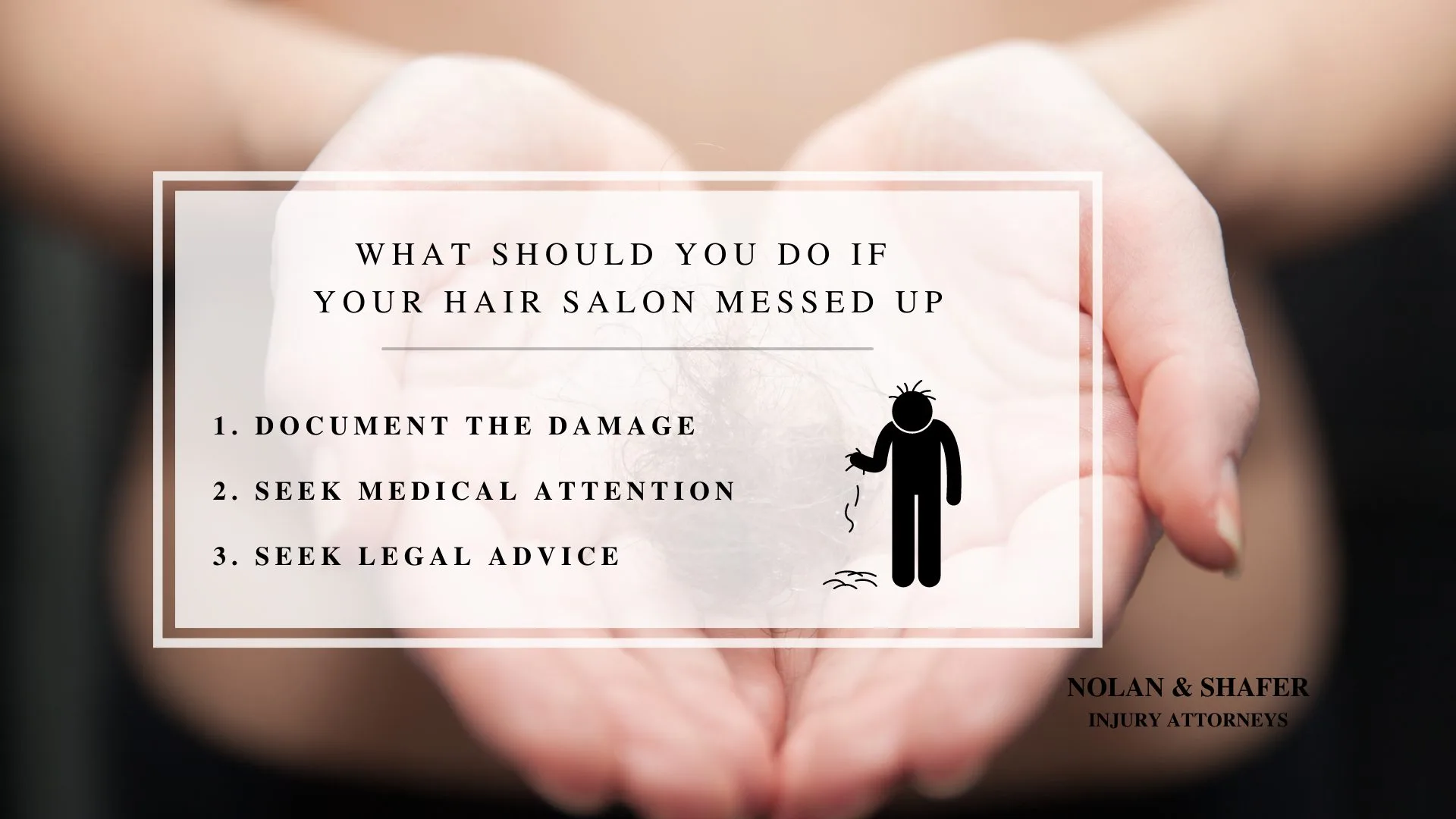 1. Document the Damage
Keep calm and assess the damage first. If the salon offers a solution, refuse to accept it unless you have documented or photographed the initial injury. Better yet, have it evaluated by a health professional first. 
2. Seek Medical Attention
Seek medical attention as soon as possible so that a medical professional can assess the extent of the damage. Keep a detailed medical report and a journal of your injury, including the pain and emotional damage, as the days pass. 
3. Seek Legal Advice
If you intend to file a lawsuit, the pursuit may be jeopardized if you fail to collect the necessary evidence or take an incorrect step. As a result, it's best to seek legal counsel from an experienced Grand Haven personal injury attorney before deciding on any solution. 
Lawyer Up
Hair loss or damage lawsuits can be as simple as a single case or as complex as a class action. However, at Nolan & Shafer, we know that no case is too small or too difficult when it comes to personal injuries. Our Grand Haven personal injury attorney team understands your situation and will fight for your rights. Reach us here or call (231) 722-2444 to schedule an appointment.