A personal injury case helps victims receive compensation for their pain and suffering from the misconduct or negligence of a responsible party. It ensures that the responsible party is punished and will take action to improve their shortcomings. 
In this article, we're sharing five famous personal injury cases that won against giant corporations. We hope these examples will encourage more victims to file suit, regardless of their wrongdoer's status. 
Five Famous Personal Injury Cases
1. Liebeck vs. McDonald's Restaurants
The Liebeck vs. McDonald's restaurant case is one of the most known personal injury cases. This case started in 1994 when Stella Liebeck, a 79-year-old woman, bought coffee at a McDonald's drive-through. While trying to put sugar and creamer on her coffee, the cup tilted and spilled on her lap. The problem was this coffee had a temperature of 190 degrees Fahrenheit, causing third-degree burns all over her legs. 
Liebeck filed a case, offered to settle for $20,000 to cover her medical expenses, and asked to change the excessive temperature of their coffee (McDonald's coffee was 30 to 40 degrees hotter than other companies). However, McDonald's only offered $800 and refused to pay a penny more. 
She tried convincing McDonald's for six months, but they refused, leading the case to trial. Unfortunately for McDonald's, the judge awarded Liebeck $200,000. But since the jury felt she held 20 percent responsible for her injury, she only received $160,000. Furthermore, she was awarded $2.7 million for punitive damages.
2. Escola vs. The Coca-Cola Company
The Escola vs. The Coca-Cola Company case started in 1944 when waitress Gladys Escola was stocking Coca-Cola glass bottles that spontaneously exploded in her hand. She suffered a five-inch-deep cut that badly injured her thumb and palm muscles, blood vessels, and nerve endings.
She filed a personal injury lawsuit against the company to pay for her medical bills, pain, and suffering. Eventually, the case made its way into court.
Escola's lawyer called one of Coca-Cola's delivery drivers to testify that he had witnessed multiple Coke bottles explode and break in the warehouse. Escola's legal team was also able to replicate the defect in front of the jury, leading the jury to rule The Coca-Cola Company negligent. Coca-Cola compensated Escola for her medical expenses. The case established a precedent for negligence and strict product liability.
3. Grimshaw vs. Ford Motor Company
In 1972, Lily Gray was driving a Ford Pinto with her passenger Richard Grimshaw when suddenly her vehicle was rear-ended, immediately erupting in flames. The incident severely injured Grimshaw and killed Gray. To make matters worse, this isn't the first time a Ford Pinto went ablaze after being rear-ended.
Ford Motor Company realized the gas tanks in the Pinto had a high chance of rupturing in rear car accidents during their crash tests. But instead of trying to fix the issue, they did nothing.
Hundreds of innocent people died burning to death, even in low-speed crashes. In 1981, individual wrongful death and personal injury lawsuits were combined, and a jury awarded $127.8 million in damages to the victims and their families. After that, the company permanently recalled the Pinto shortly after.
4. Bret Michaels vs. CBS
The CBS broadcasting company held the 2009 Tony Awards, where the Poison singer and reality TV personality Bret Michaels injured himself by colliding into a set piece while exiting the stage. After the incident, the Award Show's host Neil Patrick Harris made a witty remark saying, "his number (Bret's performance) gave headbanging a whole new meaning." 
Bret, suffering from a broken nose and later a brain hemorrhage, probably didn't find the joke funny since he filed a personal injury claim against CBS. He claims that CBS never instructed him to exit the stage properly. The court ruled in Bret's favor for an undisclosed amount.
https://www.youtube.com/watch?v=4RnEWPt-x8Q <embed>
5. Cedrick Makara vs. Newmark Realty and 40 Worth Associates
New York City claims examiner Cedrick Makara filed a negligence case against Newmark Realty and 40 Worth Associates. Makara was using a bathroom without a doorknob. As he tried to come out, a city employee entered the cubicle, jamming Makara's hand and severely injuring his thumb. He needed surgery and couldn't work for six months.  
Makara filed a lawsuit against the building's private owner and manager for failing to repair the door. The jury sided with him, and as a result, he was awarded $2 million for pain and suffering and $200,000 for medical needs. His wife also received $750,000 to compensate for his time off at work. Overall, he received $3 million.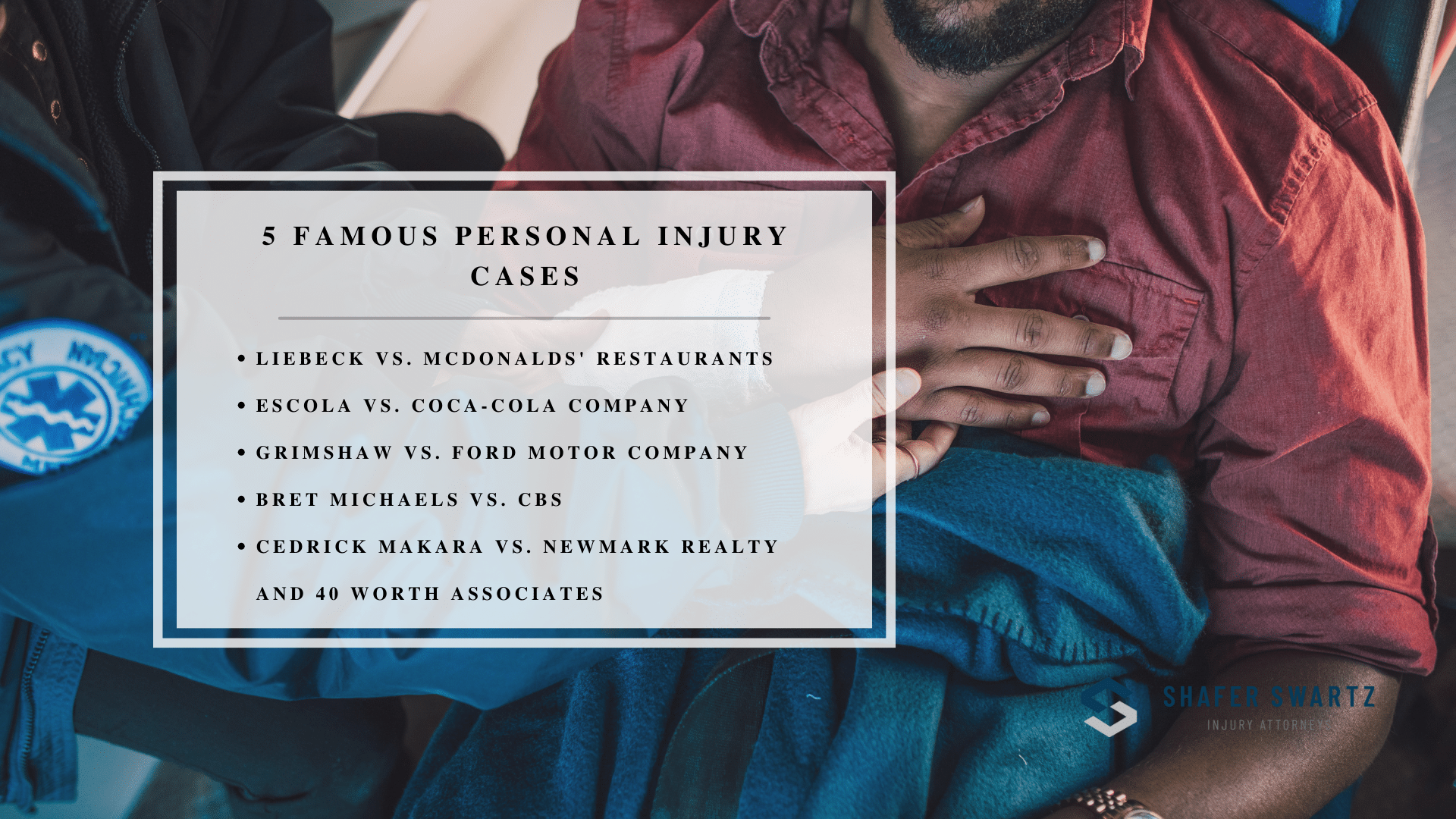 Filing for Personal Injury Claim
Filing for any type of lawsuit can be intimidating. Here's a guide that will teach you how to file for personal injury claims.
Medical Care
You mustn't skip getting medical care right after your injury, especially if you plan on filing a personal injury claim. The medical records will serve as necessary evidence if the case goes to court.
Documentation
Start documenting all damages, injuries, medical treatments, and other pieces of evidence (hospital visits, bills, and work absences) related to your case. 
Legal Consultation
It's best to get a personal injury lawyer right away because legal processes can take a long time before reaching a settlement or verdict. We don't recommend handling everything on your own because:
You are injured

The opposing party has their own lawyer

Your lawyer can get you larger rewards
Often personal injury lawyers offer free initial consultations, so there is no risk in scheduling a meeting with a lawyer following an injury. 
Serve Notice of Claim
If you decide to pursue the personal injury case, inform all involved parties of your intent to file suit. This is known as "service of process." 
Settlement Talks
Before reaching court, the attorneys will now try to negotiate an acceptable settlement for both parties. Most personal injury claims settle, but sometimes one of the parties will not find any reasonable offer.
File the Lawsuit
If the settlement talk doesn't result in an agreement, that's when you file the lawsuit. Filing the lawsuit will initiate the discovery phase, where both parties will complete an investigation of each other's claims and defenses. Both parties must answer all questions truthfully and completely.
Attempt Mediation
Mediation is the last chance to settle the case before the discovery phase ends. This step involves both parties and a neutral third party known as the mediator. If the mediation fails, though, the case moves to trial.
How Long Does a Personal Injury Case Take?
A personal injury case will take anywhere between a few months (realistically a year) and three years. Engaging with an attorney immediately and proceeding to the discovery phase alone takes six months to one year, maybe longer. The complexity of the case, damages amount, injury severity, financial situation, and patience decide how long your case will take.
We Are Here to Provide Legal Support
If you ever need to hire a Grand Haven personal injury attorney, contact the experts at Shafer Swartz PLC. We have a team of experienced lawyers and paralegals dedicated to giving you the best legal representation. Call us at (231) 722-2444 to schedule a consultation.