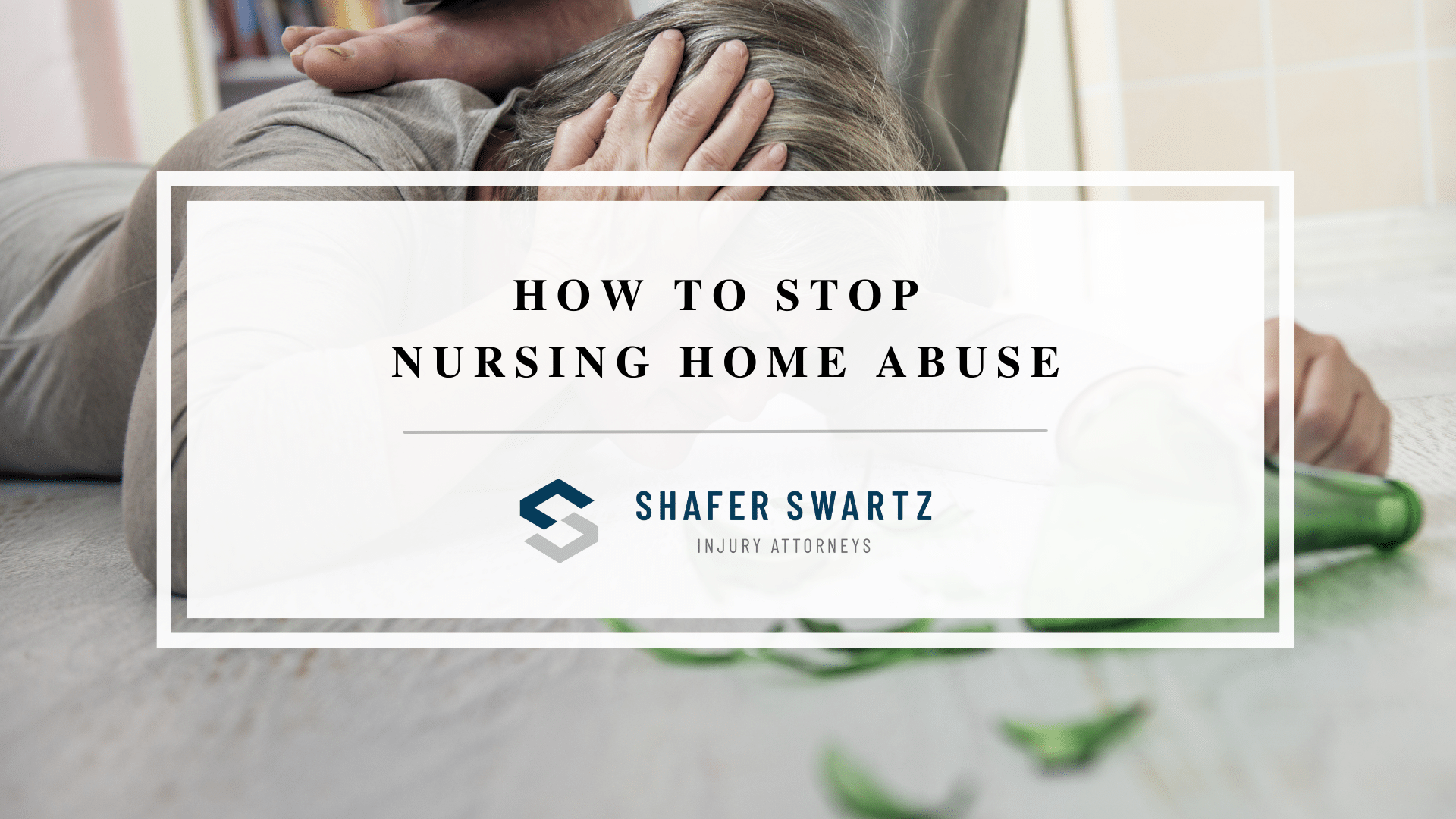 Imagine entrusting your elderly or disabled loved ones to trained professionals so they can experience comfort and care in their final days, only to have them abused. This scenario is heartbreaking but, unfortunately, also all too common. The National Center for Elder Abuse (NCEA) statistics are alarming, with 44% of nursing home residents admitting they have experienced abuse and 95% admitting feeling neglected. 
Our Muskegon Injury Attorney can help you identify nursing home abuse, prevent it, and take action if you suspect it. 
Nursing Home Abuse
The Omnibus Budget Reconciliation Act of 1987, which governs the quality of care in nursing homes, protects residents from physical, mental, sexual, and verbal abuse, including involuntary seclusion and corporal punishment. It also defines the following terms:
Abuse

– "the willful infliction of injury, unreasonable confinements, punishment, or intimidation resulting in physical harm, pain, or mental anguish."

Neglect

– "failure to provide goods and services necessary to avoid physical harm, mental anguish, or mental illness."
Abuse comes in many forms, with physical abuse as the most common. Here are more examples:
| | |
| --- | --- |
| Physical Abuse | Any act of physical violence, including beating, pushing, hitting, slapping, pinching, shaking, and more. |
| Emotional or Psychological Abuse | Threats, insults, verbal assaults, humiliation, harassment, and other verbal or nonverbal acts that cause pain, distress, or anguish. |
| Neglect  | Failure to provide necessities like water, food, comfort, hygiene, and more. |
| Sexual abuse | Unwanted touching, sexual assault, battery, harassment, sexual interaction with elders who cannot consent, and more. |
Identify the Signs of Nursing Home Abuse
It's crucial to recognize the warning signs and know how to stop nursing home abuse as soon as it appears. Don't let any sign go unnoticed or uninvestigated, whether it's as simple as broken eyeglasses or as serious as head trauma or broken bones. Warning signs include: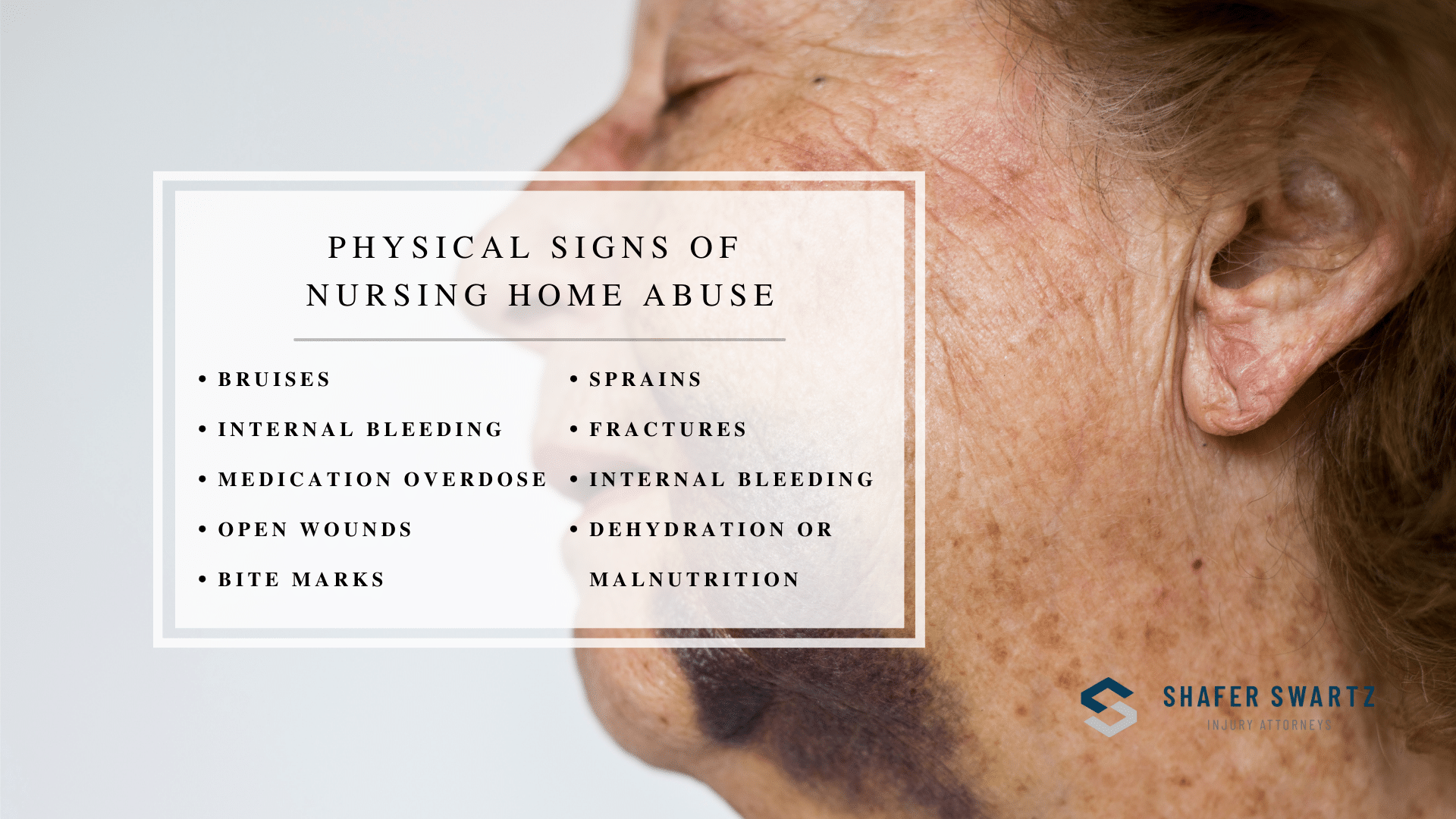 Physical Signs

Bruises, open wounds, abrasions, untreated injuries, bite marks, 

Signs of physical restraints and punishments such as rope marks, strangulation marks, and more

Sprains, fractures, and internal bleeding

Medication overdose

Dehydration or malnutrition

Psychological Signs

Agitation, anxiety

Isolation or withdrawal from others

Unresponsive and doesn't talk

Depression, lower self-esteem, and more

Behavioral Signs

Lack of personal hygiene or self-care

Unusual behavior such as biting, rocking, sucking

Sleep disturbances and more
Importance of Stopping Nursing Home Abuse
The World Health Organization (WHO) stated that elder abuse is a public health concern, particularly in nursing homes. Abuse violates fundamental human rights, and violators should face legal consequences. Furthermore, nursing home residents are highly vulnerable to abuse because they rely on their caregivers for their basic needs, safety, care, and protection. The more dependent the residents are on their caregivers, the higher the risk of abuse.
As a result, they frequently feel so helpless in the face of abuse that they may not report it. This creates a vicious cycle that has devastating consequences for their overall health. Aside from physical injuries that take longer to heal, abuse has other severe effects, such as increased cognitive decline, mental health problems, and even premature death. 
Prevention
The community, the health and social sectors, and the government should all work together to put measures on how to stop nursing home abuse. Here are some ways:
Screening of Nursing Home Staff
Setting caregiver requirements is one of the significant revisions to the Omnibus Reconciliation Act of 1987. Furthermore, the US federal government has pledged many reforms, including providing enough well-trained staff in nursing homes, technical assistance for aides, and more. 
Stronger Regulations and Systems
Increasing accountability prevents abuse. As a result, the government is implementing reforms to strengthen systems and ordinances. Among those are:
Increased scrutiny of underperforming nursing homes through the Special Focus Facility (SFF) program

Cutting the budgets of underperforming nursing homes 

Increased health and safety inspections

Increased financial penalties and more enforcement sanctions
Encouragement of Family Visits
Families could easily detect red flags of abuse with regular visits. Also, residents are more likely to report abuse when they know they have support. It also encourages the nursing home community and family to work together for the resident's well-being.  
Filing a Complaint
If you suspect elder abuse, you can easily file a complaint. In Michigan, you have the following options to report:
Michigan Department of Health & Human Services (MDHHS) Adult Protective Services: 855-444-3911

Elder Abuse Resources: 800-24-ABUSE (22873)
Responding to Nursing Home Abuse
Don't hesitate to call and report an incident to the proper authorities if you notice signs. If the victim is in a life-threatening situation, call 911 immediately. 

If the victim is a family member, remove them from the facility immediately. If not, stay with the victim until the police arrive. 

Hold accountable those responsible by taking legal actions.  
We Make It Right
Nursing home abuse is especially heartbreaking because the victims are often helpless and defenseless. If your loved one is a victim of nursing home abuse, give them the justice they deserve. Our skilled Muskegon injury attorney can assist you in filing the correct type of personal injury cases and liability claims. Contact us here or call (231) 722-2444 for an appointment.