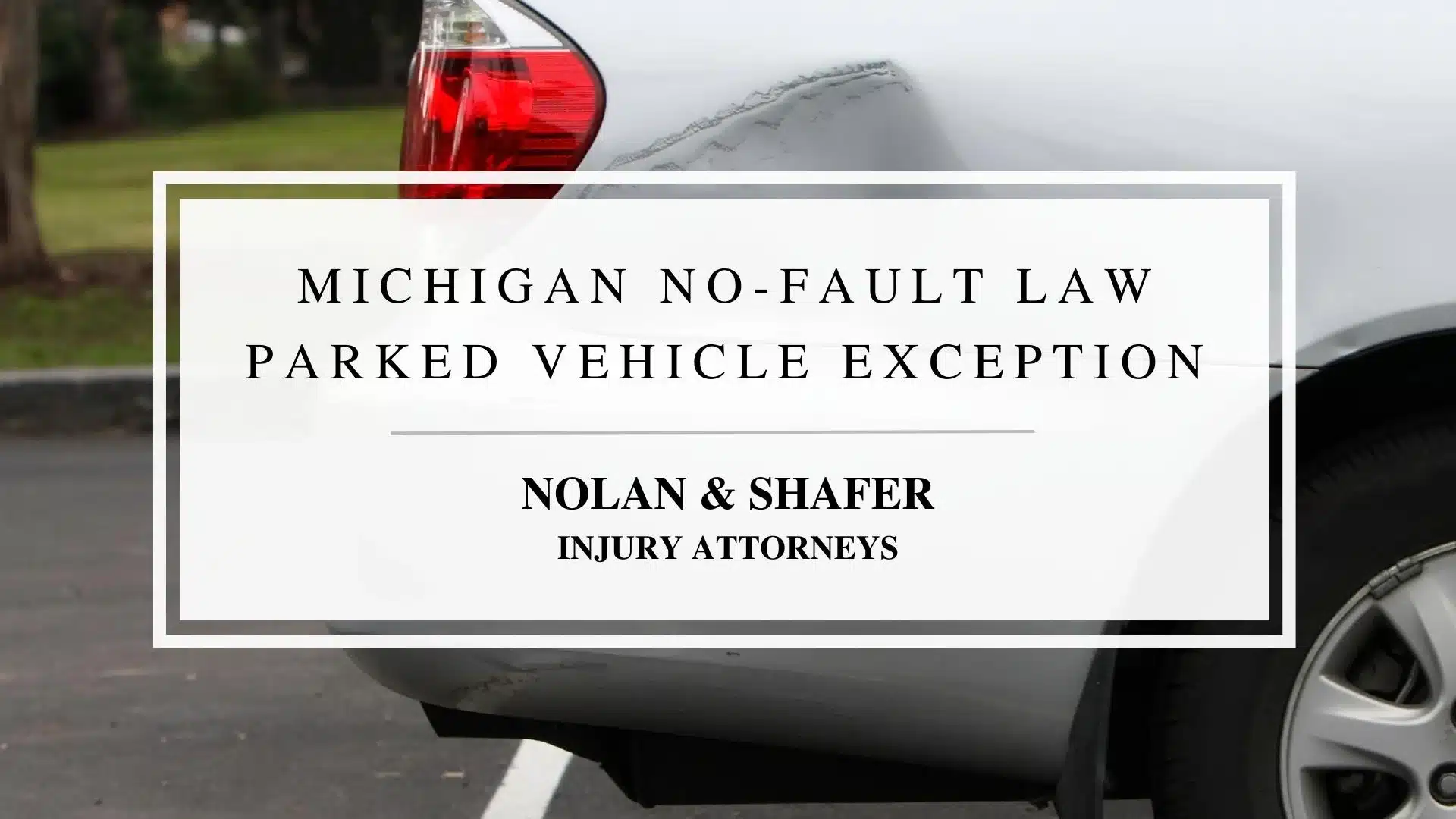 Auto accidents happen every day. Fortunately for the people of Michigan, we have no-fault insurance, which pays for the damages and protects you from auto accident lawsuits. Michigan is 1 out of 12 states in the country that chose to adopt this kind of coverage, and it typically applies to accidents involving two drivers on the road. 
What happens, though, if you hit a recklessly parked car and sustain injuries? Does your no-fault insurance apply? Are you at fault in that scenario? Together, let's explore Michigan's no-fault parked vehicle exceptions.
Michigan No-Fault Law Parked Vehicle Exception
The Michigan No-Fault parked vehicle exception is a law stating that accidents involving a parked car shall not be the responsibility of the parked car's owner unless any of these three conditions are met:
Exception A: Reckless Parking
Exception B: Contact With Operated Equipment or Load
Exception C: Entering or Exiting the Vehicle
We will explain these three in more detail below. It is important to understand that, if none of these three are met, you cannot submit a claim to your no-fault insurance. This implies you will be responsible for damages involving the accident. 
Exception A: Reckless Parking
Reckless parking can be interpreted as parking without any regard for other vehicles' safety. Here is an excerpt of the statute: 
"…parked in such a way as to cause unreasonable risk of the bodily injury that occurred." (MCL 500.3106(1)(a))
Understand, however, that reckless is not the same as unlawful parking. The driver may have parked in an area that prohibits parking but is positioned in a way that avoids the risk of an accident that can lead to bodily injury. Thus, if you hit a car parked in a street with a clear "no parking sign," but it is parked properly, the exception is not met.
Reckless parking is more on how the driver left the car, e.g, doors open, parked but still occupying half of the road, parked in a parking lot but a significant portion of the car is protruding, and so on.
It is exceptionally rare to obtain no-fault benefits under this exception. 
Exception B: Contact With Operated Equipment or Load
This exception is easier to meet and happens more often than the first or third one. This exception specifies that victims can claim no-fault insurance when the driver hits a parked car's mounted equipment while being operated. That means parked vehicles, specifically heavy machinery such as trucks mounted with cranes, ladders, etc., can be liable if someone is operating their mounted equipment. Vehicles loading or unloading any form of material are also liable.
To elaborate: a truck with a lifter is parked on the side of the road (not causing unreasonable risk). However, the operator moved the truck's lifter and blocked the driveway, injuring you and damaging your car. The truck may be parked properly, but you had physical contact with the lifter (permanently mounted equipment). That means you are in the right and eligible to claim your no-fault benefits. 
Exception C: Entering or Exiting the Vehicle
The Michigan no-fault parked vehicle exception doesn't only apply to car crashes but also injury from occupying, entering, or alighting (exiting) the vehicle. Like the first exception, though, there are specifics that you must meet to qualify for no-fault insurance. 
Entering: 
While the car door is open, the victim must explicitly show actions trying to enter the vehicle. That means he places his hand on the door or steering wheel while one of his feet is on the molded carpeting (car floor). 
Exiting:
Again, similarly to entering the vehicle, certain conditions must be met. The car door must be open, and the driver or victim must still have one foot in the vehicle when the accident occurs. 
For this exception to work, the client's accident must be within the process of entering or exiting the vehicle and must be proven in court. 
If any exceptions apply, the injured victim in the auto accident involving a parked car will be able to collect no-fault personal protection insurance benefits.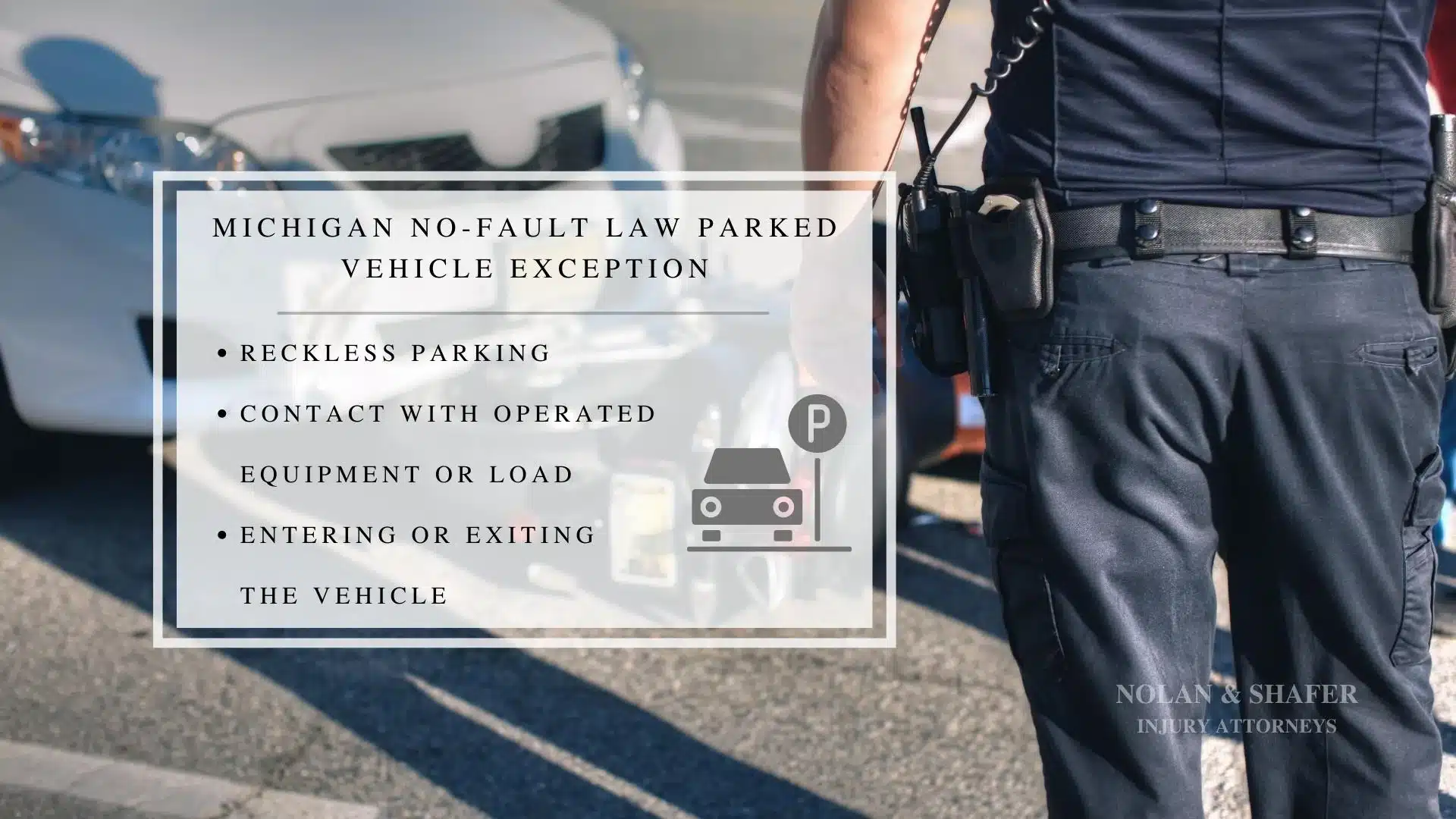 No-Fault Law Parked Vehicle Exception Sample Case
Putkamer v. Transamerica Ins. Co.
In December 1991, Carol and Sandy Putkamer drove from Lansing to Alpena to visit their parents. After unloading their luggage and gifts, they made plans to visit their brother. When Carol was entering her car, she lost her balance and fell. The next thing she remembered was sitting on the ground with her left hand gripping the inside door closure of her car.
A year later, she sought insurance relief for her medical bills from her no-fault automobile insurer Transamerica Insurance Corporation of America. However, after claiming there was no concrete evidence that she suffered an accidental bodily injury, the insurer refused to grant her any benefits because she "merely fell".
Fortunately, her case fell under the Michigan no-fault parked vehicle exception's third exception. The Court of Appeals then remanded the case to the circuit court for further proceedings, and the insurer was then made liable to pay.
Is There a Way to Claim No-Fault Benefits Under Michigan No-Fault Law Parked Vehicle Exception?
The short answer is no. A person cannot claim no-fault benefits if they do not fall under the three exceptions. They need to prove that their injuries resulted from the exceptions. 
Michigan Car Accident Attorney That Can Help You
If your insurance provider refuses to cover your accident cost and you believe that you are in the right, seek legal assistance immediately. End your search for a "car accident attorney near me" today and contact the expert Michigan car accident lawyers at Nolan & Shafer. Call us at (231) 722-2444 to schedule a consultation.