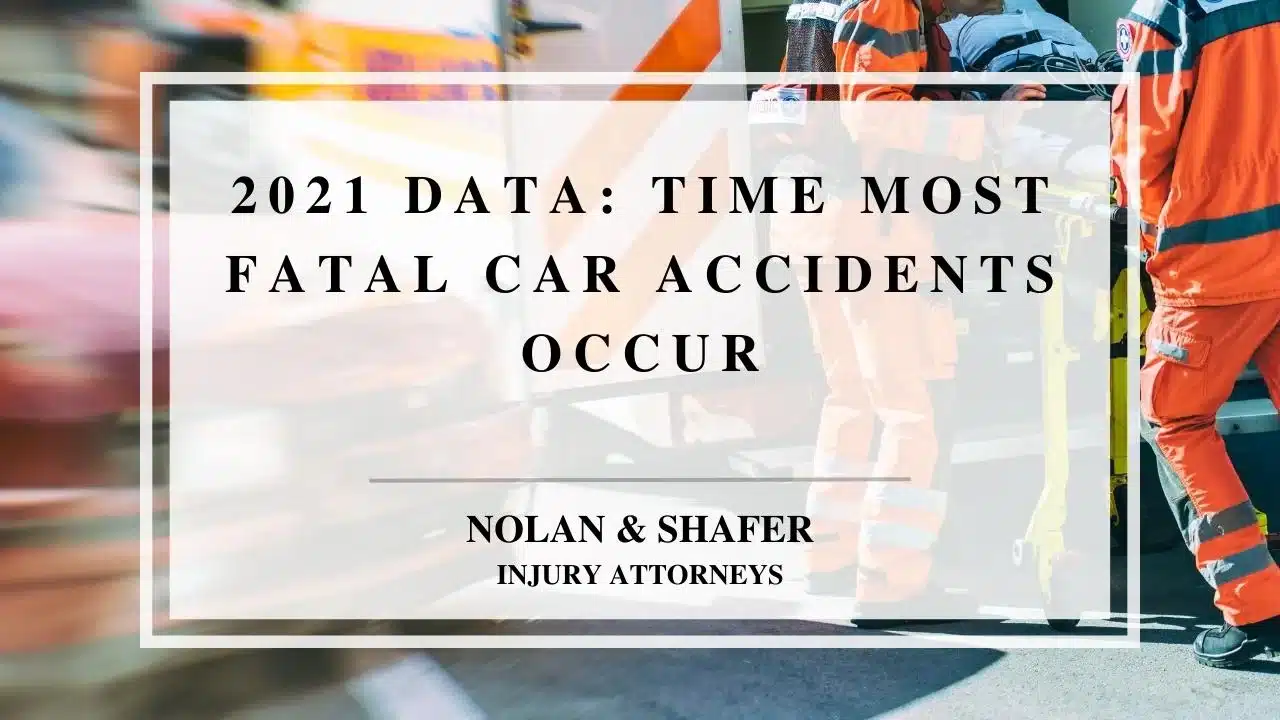 According to Michigan State Police (MSP), most fatal crashes happen on Saturday between 6:00 PM and 6:59 PM. Most fatalities occur at intersections on dry roads in clear weather. Even on a national scale, these findings remain consistent. The Bureau of Transportation Statistics (BTS) data shows that Saturday has been the most dangerous day to drive in the last five years, with the highest number of fatal car accidents. 
In this article, our Muskegon accident lawyer will explain the likelihood of being involved in a car or motorcycle accident and how to stay safe on the road. 
When Do Most Fatal Car Accidents Occur Based On 2020 Data
Data from MSP shows that a person dies every 8 hours and 7 minutes in Michigan due to a fatal car crash. Furthermore, in 2021, Michigan recorded its highest traffic fatalities since 2005. Knowing when most fatal car accidents occur is one way of protecting ourselves. So when should we be most wary and extra cautious?
According to the MSP, Saturday between 6:00 PM and 6:59 PM is the most dangerous day and time on the road, with the highest vehicle crash-related fatalities. The data on fatal car accidents in Muskegon for 2022 is still in process, but the table below provides a clear picture on recently published data. 
Types of Car Crash Fatality (Michigan)
Time
Days

Most fatal crashes

6:00-6:59 PM 

Saturday

Alcohol-related or had-been-drinking (HBD) car fatalities

9:00-9:59 PM 

Saturday (highest) and Sunday 

July is the month with the highest fatalities.

Bicyclist-involved car fatalities

4:00-4:59 PM 

Not specified

Pedestrian-involved car fatalities

6:00-6:59 PM 

Saturday
When Do Most Fatal Car Accidents Occur?
The day, time, and weather conditions that lead to fatal car accidents have always been nearly the same from 1990 to 2020, according to national data from the BTS (published in 2022). Here are the results:
In the US, most fatal car accidents happen on Saturday between 6:00 PM to 9:00 PM.

These car accidents occurred in normal weather conditions, with rain as the secondary cause. 
Car Accident Table 
Recent data showed that a Michigan traffic crash was reported every 2 minutes and 9 seconds. Consequently, there has been a 15% increase in car crashes from 2020 to 2021, with a 6% increase in fatal crashes. Data shows that wildlife crossing roadways, like deer, is a common reason for many car crashes. The same data shows other factors that often lead to deadlier outcomes, like speeding, driving under the influence of drugs and/or alcohol, and driver inexperience.
Here, we have data on crashes and fatal car accident Michigan 2021. 
| | | |
| --- | --- | --- |
| 2021 | Crashes | Fatal Crashes |
| Total for 2021 | 282,640  | 1,068 |
| Deer Involved | 52,218 | 10 |
| Young Driver Involved (16 – 20 years old) includes hazardous actions like speeding, tailgating, etc. | 47,272 | 157 |
| Distracted Driving  | 16,543 | 59 |
| Alcohol Involved  | 9,557 | 336  |
| Drug Involved  | 2,999 | 259 |
| Commercial Motor Vehicle-CMV Involved  | 14,293 | 93 |
| Motorcycle Involved | 3,175 | 166 |
| Cell Phone Involved  | 2,784 | 23 |
Where Do Most Fatal Car Accidents Occur?
Now that we know the 'when', let's cover the 'where'. Intersections continue to be the most common site of fatal car accidents. Lane departure also leads to crashes, but it rarely results in death. Here are some conclusions based on data from MSP's fatal car accident Muskegon 2021:
The total intersection crashes (87,118) is 30.8% of the total Michigan car crashes (282,640) for 2021.

The total fatality rate due to intersection crashes (334) is 31% of the total Michigan fatal crashes (1,068) for 2021.

Meanwhile,

Detroit has the highest number of car accidents

in the state of Michigan for the year 2020.
Car Accident Frequency Based on Season
Based on crash and fatal car accident Muskegon 2020 data, icy roads during the winter months of December and January resulted in 29.91% of car crashes for the year. The autumn month of October had the highest number of car accidents. Meanwhile, April resulted in the lowest number of car crashes for 2020. 
| | |
| --- | --- |
| Winter | 29.91% of the total crashes for 2020 |
| Fall  | 29.37% of the total crashes for 2020 |
| Summer | 25.45% of the total crashes for 2020 |
| Spring | 18.14% of the total crashes for 2020 |
Common Car Accident Causes
Based on the 2020 data, hazardous actions such as overspeeding and driving under the influence of alcohol and drugs remain the top causes of car accidents. Deer-related accidents can occur all year round, almost everywhere. Here are the most common car accident causes:
Alcohol and drug use while driving

Excessive speed

Running a red light

Tailgating

Distracted driving; cell phone use

Deer crossing

Drowsy driving

For teens aged 15-20: Hazardous actions such as speeding, failing to yield, inability to stop, collision with a ditch, hitting a tree, not wearing a seatbelt, etc.

For senior drivers aged 65 and older: Poor driving habits such as failure to yield, disregard of traffic control, improper lane use, improper turns, improper backing, etc.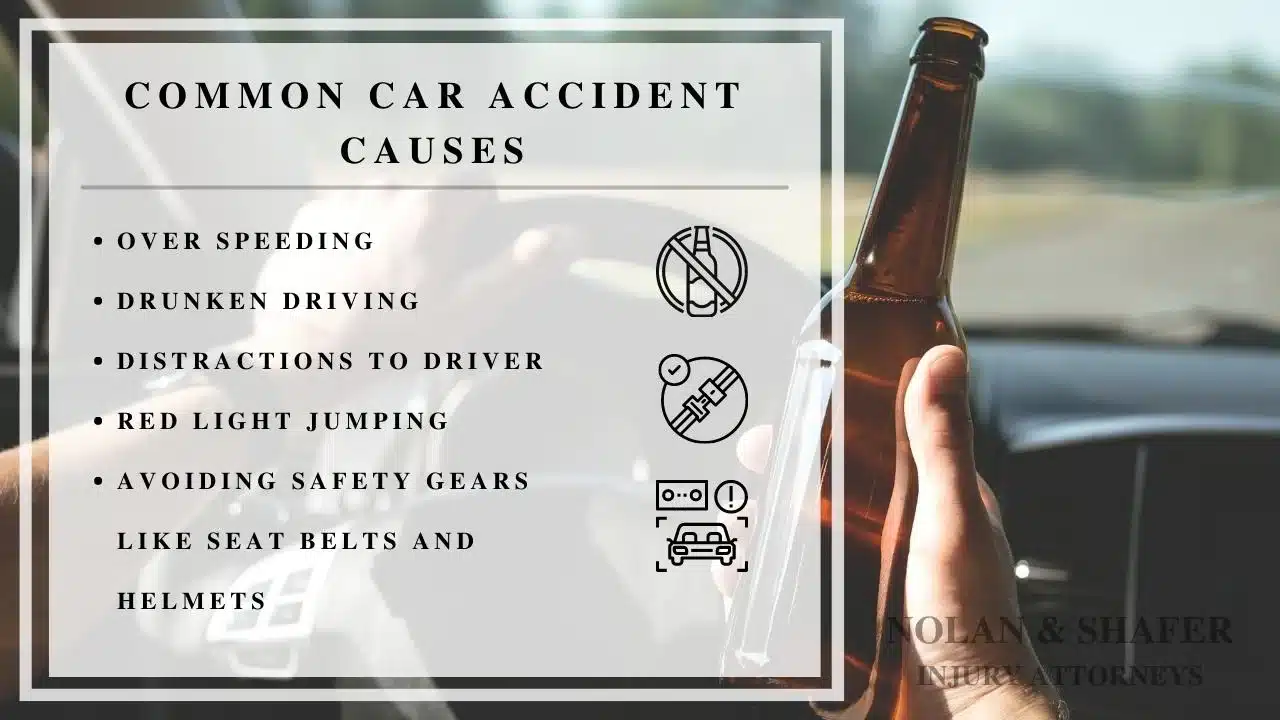 How to Avoid Accidents
Many simple precautions can go a long way in safeguarding the safety of you and your family while on the road. Below are some safety road tips to keep in mind:  
Always wear a seatbelt

Avoid tailgating and stop at a clear distance

Don't drive when you're tired or drowsy – if you must, try to switch with another driver when you feel signs of fatigue 

Take breaks to rest

When you see deer crossing signs, use special caution

Don't miss your vehicle's regular preventive maintenance

Slow down and be aware of other vehicles when driving during the winter season
Muskegon Car and Motorcycle Accident Lawyers
If you get involved in a car or motorcycle accident, you should call a skilled Muskegon motorcycle accident lawyer or car accident lawyer right away. At Nolan & Shafer Personal Injury Lawyers, we understand the situation's urgency and your needs. Our team of seasoned and expert accident lawyers will do the heavy work by giving you professional legal advice and helping you file your claims and benefits. You may rest confidently knowing that we'll do everything to make things right for you.