The Benefits Of Hiring A Local Personal Attorney
The last thing you want to do is try to navigate the legal system on your own when facing a serious charge. Failing to seek professional advice and guidance is a recipe for disaster, and can be very costly in the long run. 
This is especially true when you are facing a personal injury. If you've been injured due to the negligence of another, it will be in your best interest to hire a local personal injury attorney to help you.
Six Benefits of Hiring a Local Personal Attorney
Below are six reasons to consider hiring a personal attorney that is local to you:
They Know the Local Court System
One of the main benefits of hiring a personal attorney from the area is using their familiarity with the local court system and likely some of the players in the courtroom. They could know the judges and how they tend to rule on cases, using this knowledge to their advantage when negotiating a settlement or going to trial on your behalf.
They Are Accessible
A local personal attorney is more accessible than one based in another city or state. It will be much easier for you to meet in person or talk on the phone, and they will be able to respond to your questions and concerns more quickly.
You Will Save Money
Hiring a personal attorney from another area will likely result in higher fees due to travel expenses. A local attorney won't have this kind of overhead, so they can pass the savings on to you. Moreover, they're likely more familiar with the local laws, which can save you money on research fees.
They Can Help You Connect With Local Resources
A local lawyer can help connect you with local resources. For instance, a personal injury attorney could know medical providers who can help you with your case. They may also be familiar with other lawyers in the area who could be helpful to you and your case.
They Have a Reputation to Uphold
Reputation is important for any business, but it's especially important for lawyers. A local personal attorney has a reputation to uphold in the community and will be more likely to give you the best possible service in hopes you will refer them to others.
They Are Part of the Community
Local personal attorneys are more likely to give back to the community. They may offer free consultations or participate in pro bono work. It shows that they care about the people in their community and are more likely to fight for you.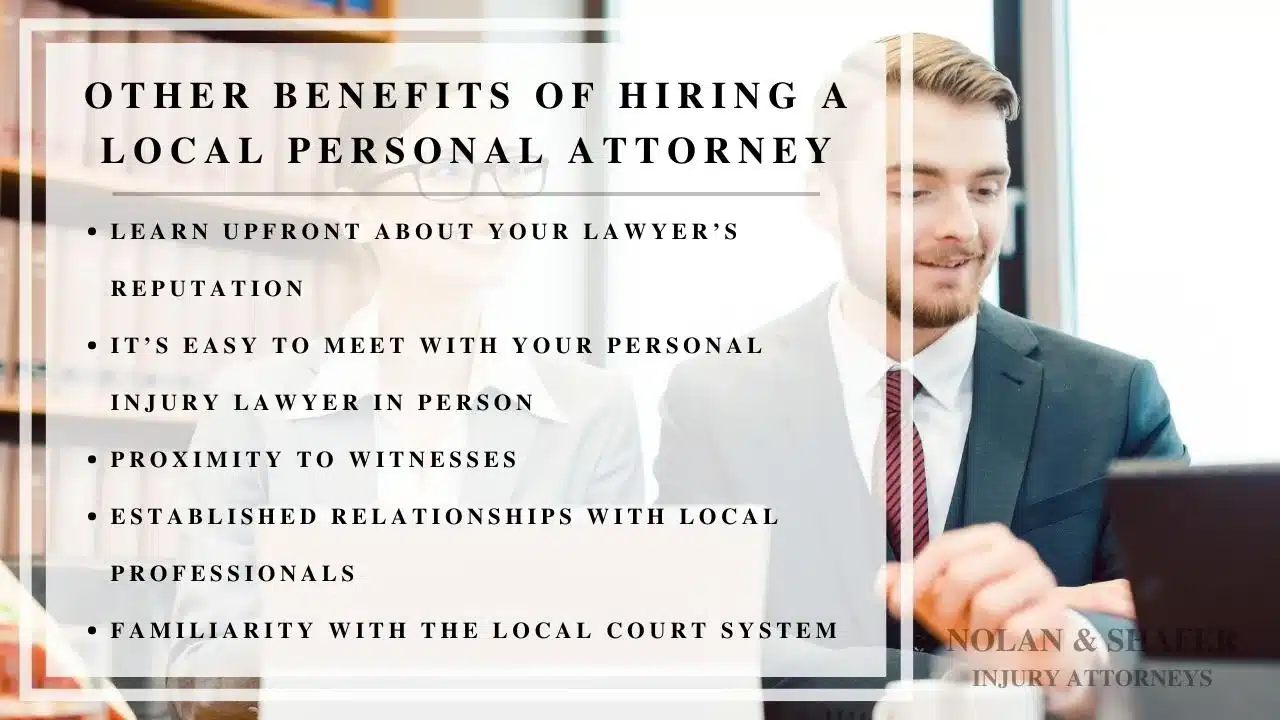 FAQ
How do I find a personal injury attorney locally?
Search online for personal injury attorneys in your area, or ask friends and family for referrals. For example, scout for "Grand Haven Personal Injury Attorney" if you live in Grand Haven, Michigan. Once you have a few names, you can research each one to see if they have experience with your type of case and read reviews from previous clients.
Can I switch attorneys or fire a personal injury attorney?
You can fire a personal injury attorney at any time, but it is best to do so in writing. Include your name, the case information, and why you are firing the attorney. You may also want to send a copy of this letter to the attorney's office. It is important to keep in mind that you may owe the attorney a portion of any settlement or verdict you receive.
What percentage do personal injury attorneys take?
Most personal injury attorneys receive 1/3 or 33% of the total settlement or judgment. For example, if you win a $100,000 verdict, your attorney would receive $33,000. The 33% fee is the industry standard to compensate attorneys for their time and work on your case while protecting clients from bearing the entire financial risk of litigation.
Conclusion
If you are facing legal issues, it's always best to hire a local personal attorney. They are more accessible, familiar with the law, and have a reputation to uphold. Most importantly, they care about their community and will fight for you.
If you're looking for a Grand Haven Personal Injury Attorney, look no further than Nolan & Shafer. We have the experience and knowledge to help you with your legal concerns so you can move on with your life. Contact us today for a free consultation!