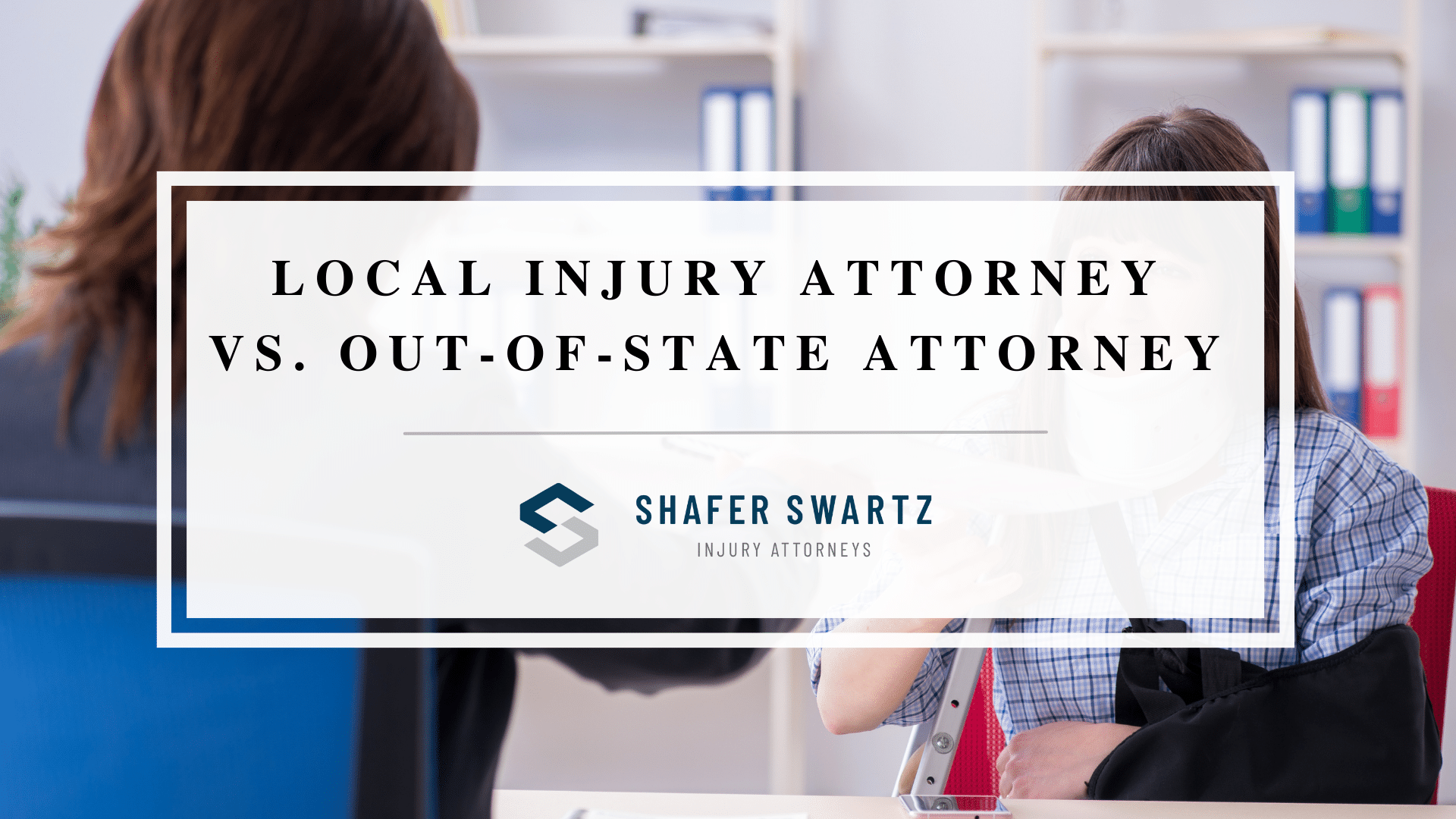 Choosing a lawyer is a critical decision that can make or break your personal injury case. It's overwhelming. Sometimes, it can even lead you to think that an out-of-state lawyer will outperform your local injury lawyer. 
This mindset, however, will often do more harm than good. So before contacting out-of-state firms because you found their promises on their website appealing, you need to know why choosing a local injury attorney may do a better job at helping you win your case. 
Don't Underestimate Your Local Accident Attorneys
People often get distracted by fancy commercials or promises from advertisements. But how could a lawyer that's miles away from you, and your community, properly handle your case?
To a lawyer from out of state, you may be just a transaction. To a local lawyer, you are part of their community.  
Think about it. It's unrealistic to expect an attorney from say, New York, to represent a client with the same effectiveness as one in Muskegon. Realistically, a lawyer not from the community can't devote the same resources or time as someone who lives right around the corner. The other table knows that. Hiring an out-of-state attorney gives the opposing side great leverage in negotiations.
Why Choose a Local Injury Attorney 
Easier Communication
Nothing is more aggravating than being unable to communicate with your attorney. Hiring a local work injury attorney guarantees that you can meet face to face with them whenever necessary. You won't have to rely solely on phone conversations or emails for communication.
Saves You Money
When you hire an out-of-state lawyer, there's a chance that their room and board will end up coming out of your pocket. That means you would have to cover their travel, lodging, and other expenses as they move around to defend your case. Hiring a local lawyer will allow you to save more money.
Familiarity With the Opposing Table
There is a good chance that an attorney from another city won't be familiar with the judge presiding over your case. An out-of-state lawyer also won't know the lawyer handling the opposing table. That means they won't know the judge's preferences or how the judge handles the courtroom. Local lawyers are frequently more at ease in courtrooms with local lawyers and judges, resulting in better client representation.
Better Understanding of the Odds and the Outcome
An attorney that has already gone to your local court will have a better read on the situation. They'll be more familiar with the common ruling for cases in local courts and the odds of a fair and reasonable verdict in your case. They know the local laws better, which gives them a clearer idea of your case's potential.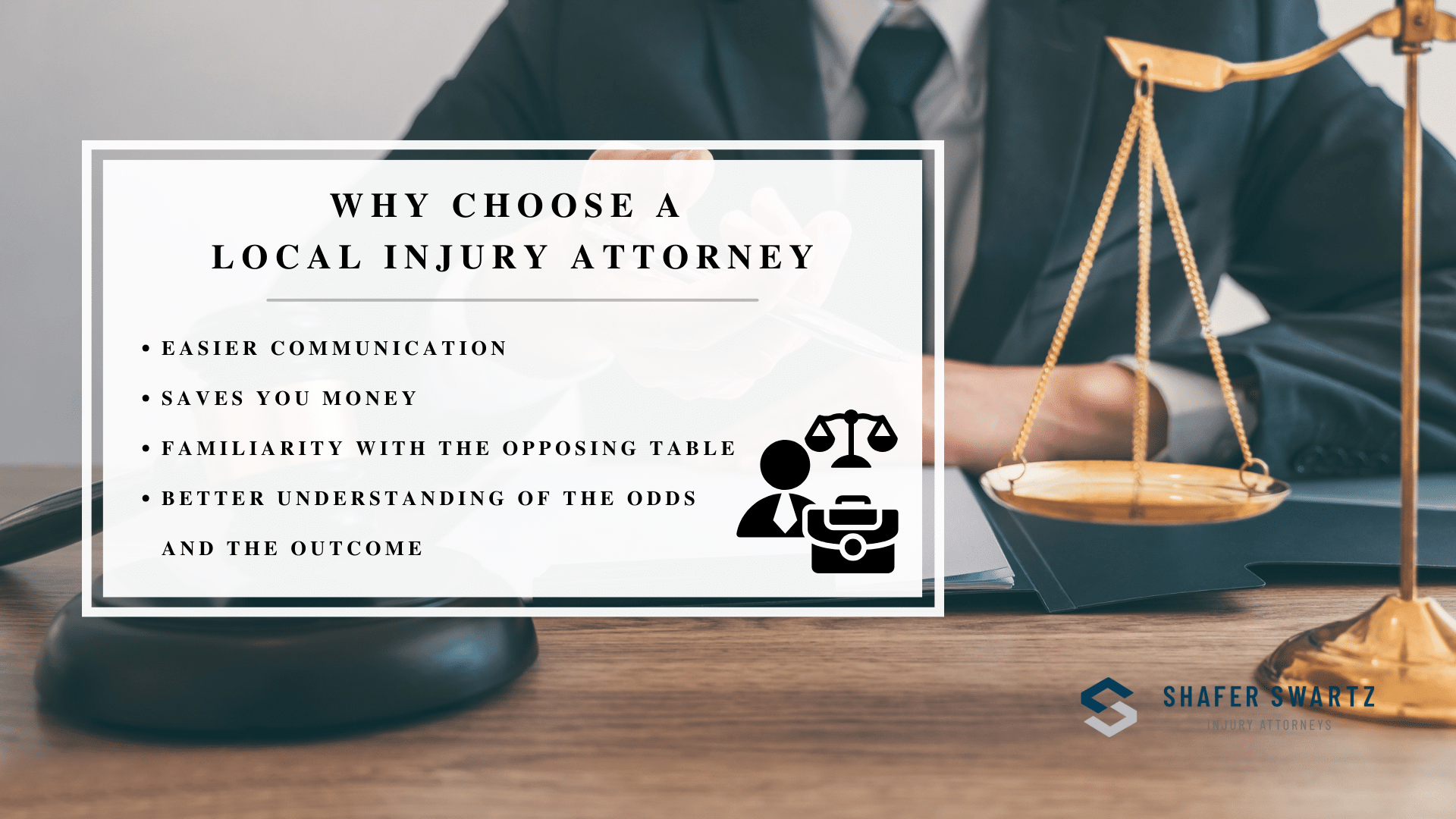 Your Local Injury Attorney and the Power of Community
There are other benefits of working with local attorneys for car accidents or injury claims. By searching for a local lawyer from your community, you can leverage that connection to ensure you find the perfect option for you.
A local injury attorney will not only have worked with local courts, but they will most likely know business owners and physicians can help as reference sources. This knowledge can be crucial in providing supporting evidence for a case or assisting a client in moving forward after being injured due to negligence.
Furthermore, vetting an attorney is much easier when you can ask friends and family. You can learn about a local injury attorney's reputation and the quality of their services by speaking with their previous clients. With out-of-state attorneys, you would have to rely on outside sources and references.
A local attorney will care a lot about their reputation within the community. They will go to great lengths to prove their reputation is well-deserved.
Injury Lawyers in Your Area
When you've been injured or have suffered because of a company's carelessness, there's no one better to help you than a local personal injury lawyer. They are much more likely to understand your situation and your desired results. Their grasp of local law will give them the edge you need to win the case.
Work With a Law Firm That Cares
Personal injury law isn't the same in all states. If you have a personal injury case, you'll want to work with a local lawyer who understands your situation, is familiar with the local law, and knows the community by heart. Hiring a local attorney may be the best move you can make.
If you've experienced a work injury, car accident, or any other personal injury, you can rely on us to get the justice you deserve. Get in touch with the best Muskegon Personal Injury Attorneys by calling (231) 722-2444 or using our contact form to get a free consultation.