Auto accidents are a leading cause of personal injuries in the United States.
According to the Michigan State Police Criminal Justice Information Center, in 2020 there were a total of 245,432 auto accidents in the state of Michigan. Muskegon County reported 4,242 automotive accidents with 738 accidents resulting in personal injury and 23 related fatalities.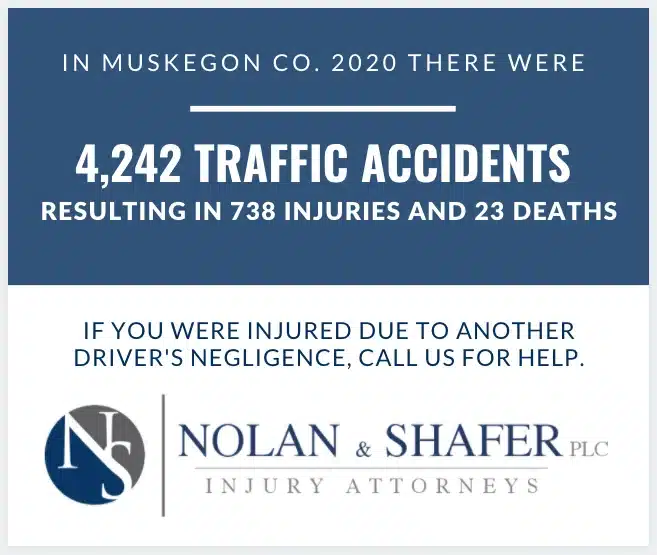 If you are involved in an automotive accident in the state of Michigan that results in a personal injury you should contact an experienced personal injury attorney right away. 
Nolan & Shafer PLC of Muskegon, Michigan has worked with clients across the state to help them get the compensation and entitlements they need and deserve.
It's important to remember that compensation for an auto accident depends on the extent of the victims' losses related to the vehicle accident.
When filing a personal injury claim related to an automotive accident in the state of Michigan, there are two types of claims that can be made. Those claims include first-party and third-party claims. In Michigan, you can only claim a third-party lawsuit against another driver when you have experienced what's known as a threshold injury. Threshold injuries must include serious impairment or disfigurement. When an auto accident does not result in a threshold injury, only first-party claims can be made against your own auto insurance company. First-party auto accident claims can only be filed for financial benefits needed to cover resulting losses. 
A personal injury attorney can file a first-party claim to assist you in recovering losses related to medical expenses not paid for by your health insurance, as well as help cover travel expenses related to your medical recovery and treatment plan. Recoup lost wages and help cover other expenses related to needed replacement services.
When a threshold injury results from an auto accident caused by another driver, an experienced car accident attorney can also help file a third-party claim against the other driver's insurance company. If a third party claim can be made you may be entitled to additional compensation for the pain and suffering you or a loved one experienced as a result of an auto accident. 
If you are involved in a car accident you should always seek medical attention, even if you were not seriously injured. A medical report from your doctor can help establish and substantiate your auto accident claim. It's important to also make a police report to document the details of the accident. After an accident, it's important to not discuss the accident with the other involved parties and to never admit fault. You should contact a personal injury attorney immediately, to assure the proper steps are taken to correctly document all details related to your possible compensation claim.
At Nolan & Shafer PLC, our goal is to help our Michigan-based clients receive the fair compensation they deserve. If you were the victim of an auto accident in the state of Michigan, contact our law office to discuss your case